Нuman being explores life by the methods that seem the most suitable here and now.
I started my carrier as a painter, then I worked as a conceptual artist, curator, critic, journalist and art manager. Some years ago I have returned to painting that provides an incomparable joy in the direct act of creation. And I treated myself to working for the hell of it – out of professional conventions and without a backward glance at the market, trends or critics' opinion. This provides an incomparable joy of freedom. People seem to like it.
Marina Koldobskaya 
Works of Marina Koldobskaya are childlike in their charm and archaic in their brutality. It is as if they had stepped out of the pages or a sketchbook or down from the walls of a Paleolithic cave – territories of the protolanguage, simultaneously sacral and profane. 
All the series of pictorial works by Marina Koldobskaya are united by the artist's general tendency to push the envelope of traditional painting. By exposing professional devices to the maximum, the artist removes, layer by layer, the multi-millennium practice of art history, getting to the essentials of the protolanguage of art. At the author's pleasure, large-scale canvases become half cave roofs of the Paleolithic Age, half a page from the children drawing book: the sacral territory of expression. From the pictures, we are closely observed by packs of predators that pulled their prey to pieces and are now drunk with blood flows, and postcard flowers lost their decorative aspect and turned into the monsters that devour with their bud's trap the viewer who passes by. Expressive images-totems are plain to everybody, much like everybody is familiar with the emotions which are common to a human and an animal: fury, lust, thirst and fear. 
Andrey Sakov, art-historian 
NAME: Marina Koldobskaya
BORN: 16.10 1961 in Leningrad, USSR
EDUCATION: graduated from High School of Art and Design, n.a. V. Mukhina in Leningrad, in 1985, specializing in design.
CONTACT: 191040 Pushkinskaya 10, studio 308, St. Petersburg, Russia
+7 9219534534
skype: koldobskaya
www.marinakoldobskaya.com 
marina.koldobskaya@gmail.com 
MEMBERSHIP
European Culture Parliament
Free Culture Fellowship
CYLAND art media lab collective
SELECTED EXHIBITIONS (last 5 years) 
2014
Cyberfest-2014, The Other Home exhibition, Bethanien Quartier, Berlin
AQUA Art Miami, booth of Roza Azora gallery, Miami
Territory of Freedom, The State Russian Museum, St. Petersburg
Stamens-Pistils, solo show, Museum of Contemporary Art of St. Petersburg State University
Blood & Roses, solo show, Art.re.FLEX gallery, St. Petersburg – Lisi Haemmerle Galerie, Bregenz
Art Bodensee, Lisi Haemmerle Galerie booth, Dornbirn
Capital of Nowhere, The State Hermitage Museum, International Educational Centre
Manifesta 10, parallel program, The Other Home exhibition, Frants Gallery Space, St. Petersburg
Art Vilnius 2014, solo project, mural painting
The End, Vilnius
2013
Covered With Snow, Loft-project ETAGI, St.Petersburg
Contemporary Istanbul, booth of Art re.FLEX Gallery, Istanbul
Capital of Nowhere, Ca Foscari Zattere, Venice

Art Moscow art fair, booth of Roza Azora Gallery, Moscow

Hardly Any Blood, solo show, Art re. FLEX Gallery, St.Petersburg

Rose-Mimosa-Poppy, Roza Azora Gallery, Moscow

The Crosses, Erarta Museum, St.Petersburg
2012

Resonant Matter, The State Russian Museum, St.Petersburg
Count Down (retrospective solo show), Museum of Non-conformist Art, St.Petersburg
Conversion Project, mural painting, St.Petersburg
Art Vilnius, solo project, mural painting at Frants Gallery Space booth
Hunting & Gathering, (solo show & master-classes) The State Hermitage Museum, Educational Center
2011
Total Contemporary Night, solo show, mural painting, Rizzordi Foundation loft, SPb
We Are Here, special project for 54th Venice Biennale, Ca Foscari Universita, Venice
Art Vilnius, solo project, mural painting at Frants Gallery Space booth
Black & White, PERMM Museum of contemporary Art, Perm
2010
Cyberfest-2010, St.Petersburg
Black & White, Modernariat Gallery, St.Petersburg
Red Chips, solo show, Kremlin Gallery, St.Petersburg
Zen'd Art, 20 years of women art on post-Soviet space, Moscow Museum of Contemporary Art Gogolfest, Kiev
Gold For People, Central Exhibition Hall, St.Petersburg – Samara Art-Centre, Samara
Meninas, Erarta Museum, SPb
Art works by Marina Koldobskaya are in State Hermitage Museum, State Museum of Political History of Russia (St.Petersburg), State Museum of Fine Art of Tatarstan Republic (Kazan), Museum of Non-conformist Art (St.Petersburg), Collection of Central Exhibition Hall Manege (St. Petersburg), Kuyosei No Sato Museum (Fukuouka), Angerlehner Museum (Thalheim bei Wels), in many galleries, private and corporative collections in Russia, USA, Germany, Austria, Finland, France, Holland, Sweden, England.
HUNTING & GATHERING 
Series of public events, since 2011 
A public session of the monumental mural – the genre that the artist has practiced in the recent years across the board, from an atrium of the Hermitage Museum to the walls of vacated houses – expresses her intentions the best. This is simultaneously an audiovisual performance and painting: much like an artist-shaman, she does her magic over the figures of giant animals, simultaneously engendering and sacrificing a latter-day totem. Microphones, attached to the surface, read the sounds of dabs, brushstrokes, falling drops of paint and send them to a DJ control board where they are processed by assistant musicians. The artist works with the speed of lightening; during 30 to 40 minutes, the viewer sees now a butchered deer that thrashes in agony, now a predator, intoxicated with blood, with locks of the prey in his jaws. This monumental calligraphy is rendered in three rudimentary colors – black, white and red – that Koldobskaya imbues with their primary symbolism: light, darkness, blood. 
Images from this series show animals in crucial moments: when they are dying, fighting, suffering from wound, devour their prey, giving birth and so on. Artist chooses for picturing animals, familiar everybody since his/her childhood both from everyday life and popular images – as cats, mouses, deers, swans, bulls, flys and so on. 
Andrew Sakov, art historian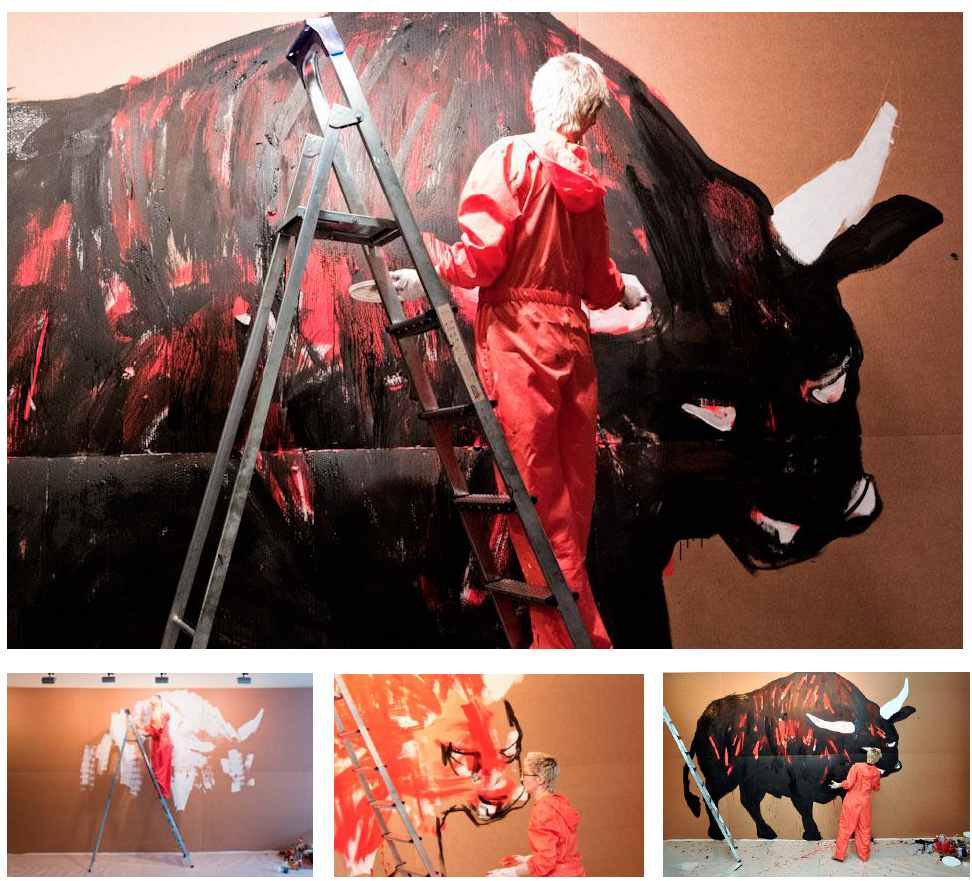 Hardly Any Blood, wall-painting session, open for visitor, accompanied by interactive sound art 2013, Art re. FLEX gallery, St. Petersburg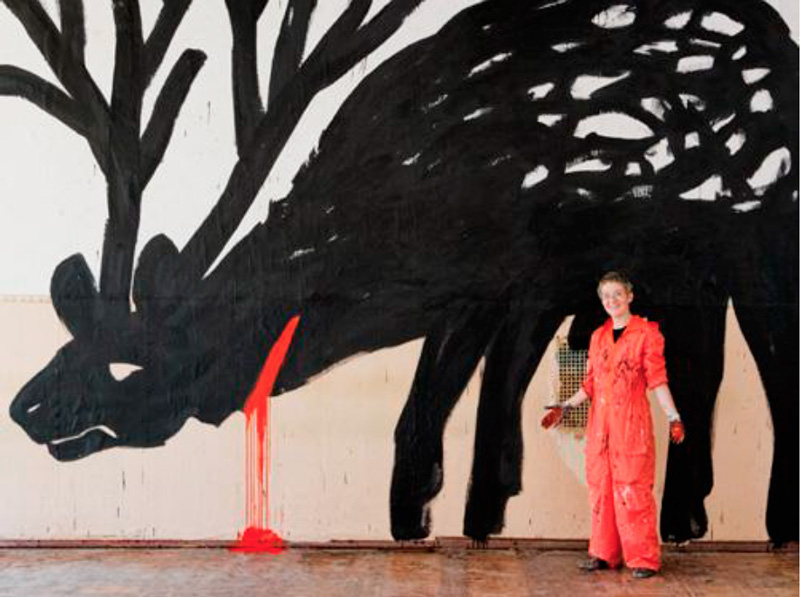 The End, wall-painting session in Conversion project, abandoned caserne, St. Petersburg, 2012
Wordless, wall-painting session on Vilnius Art Fair, stand of Frants Gallery Space, 2011