Maria Anwander & Ruben Aubrecht
ZONE I – Stand G 23
viennacontemporary 2017
International Art Fair
21. – 24. September
Preview & Vernissage 
20. September
Eröffnung: Mittwoch, 20. September 2017: 17:00-21:00 Uhr
Öffnungszeiten:
Donnerstag, 21. September 2017: 11:00–19:00 Uhr
Freitag, 22. September 2017: 11:00–19:00 Uhr
Samstag, 23. September 2017: 11:00–18:00 Uhr
Sonntag, 24. September 2017: 11:00–18:00 Uhr
Anwander & Aubrecht – bekannt für subversive und subtile Unterwanderungen bestehender Strukturen im Kunstbetrieb thematisieren und analysieren nicht nur den Kunstbetrieb, in welchem sie selbst agieren, auch die Protestkultur war schon Thema  mit der Headline "Man nehme sich eine Gasmaske" 2015, ( AllerArt, Bludenz) so wird auch diese Installation für die viennacontemporary 2017 ein "Mögliches Resultat einer gemeinsamen Arbeit", (Titel der Ausstellung in der Startgalerie im MUSA, Juli 11) und nimmt Bezug auf Autorenschaft und Urheberrecht speziell im digitalen Zeitalter, unter dem Aspekt der Kommerzialisierung von Bildinhalten.
Image Courtesy
2017, Vorhang, Inkjet Print auf Voile, 260 x 360 cm
Image Courtesy von Maria Anwander & Ruben Aubrecht
Das Wasserzeichen ist Herkunftszeichen von Papiermühlen. Eine nur durch Lichteinfall zu sehende Prägung. Im digitalen Zeitalter werden diese Wasserzeichen von kommerziellen Bildagenturen digital in Fotos eingearbeitet, Bilder werden gebrandet, gestempelt, sie werden von der Freiheit ihrer offenen Benutzung abgeschirmt und als Produkt markiert. Digitale Wasserzeichen wirken transparent, das einfallende Licht sind die Displays unserer technischen Gerätschaften, das Durchscheinende wird stets simuliert, als Firnis, als Fenster, als Schicht. Maria Anwander und Ruben Aubrecht bearbeiten diese Mehrschichtigkeiten auf konsequente Weise: Eine Messekoje wird von einer transparenten Gaze umhüllt, diese ist bedruckt mit einem Copyright-Brand ihrer eigenen imaginierten Stockfotoagency. Bildagenturen wie Shutterstock, Gettyimage, Adobe etc., die die digitalen Fotoarchive unserer Zeit sind und uns Bilder online zu Waren verpacken, approprierend, kadrieren sie ihre Messekoje und deren Bildinhalte; ein analoger Prägedisplay mittels digitalen Zeichensystems. So wird alles was in dieses Netz geht, zu ihrer eigenen urheberrechtlichen Rahmung: die Kunstbetrachter, die fotografierenden Messebesucher, die dahinter installierten und hängenden Kunstwerke (die wiederum abstrahierte Agenturfotos präsentieren, die mittels Sucheingaben a la "Beautiful Picture in Art Gallery" erstellt und bis zur Unkenntlichkeit weichgezeichnet wurden), ja die gesamte Realität vor Ort wird von den beiden Künstlern signiert und digital gebrandet. Die Messekoje kann als Amalgam aus Digital und Analog gesehen werden – ein Hybrid, das Analoge digitalisierend, indem es auf die Verwertungshistorie eines Fotos ihrer früheren Arbeit "Just another Work of Art which not go down in History", das von einem User auf die Plattform Tumblr hochgeladen wurde, verweist – aber gleichzeitig auch das Digitale analogisiert, indem es die "Tumblr-Like-" und "Reblog-" Angaben zu dieser auch in realiter ausgestellten Arbeit zu konkreten Plexisglasskulpturen transformiert. So wird einerseits das Virtuelle realisiert und das somit neu entstandene Reale durch den fotografierenden Messebesucher in zweiter Potenz virtuell: die mediale Verbreitung qua Internet ist in den Werken immer schon mitbedacht und ihnen inhärent, als raffinierte Rückkopplungen unserer Verwertungsgesellschaft.
"The only conceivable way of unveiling a black box, is to play with it" René Thom1
Das Internet erweist sich immer mehr als Geschichts- und Gegenwartsnivellierungsinstrument, es ist immer volatil, immer aktuell, immer akut, nie introspektiv, nie politisch, nie historisch. So verweist das selbstironische "Just another Work of Art which not go down in History" nur vordergründig auf das postmoderne Diktum, dass es keine Meisterwerke mehr gibt, sondern vielmehr darauf, dass das Internet eine neue Form der Geschichtsauffassung etabliert, die die alte Historiographie überschreibt oder schlicht einfach ignoriert. Wir wissen: A Photo or it didn´t happen, a Like or it wasn´t there. Die genauen Like und Reblogangaben als Zeichenskulptur sind ein Still einer Jetztzeit, die sobald sie wieder fotografiert wird – was sicher passieren wird – seine eigene Vergangenheit und vergangene Resonanz repräsentiert. Eine Arbeit, die nicht nur postdigital, sondern vielmehr auch postanalog ist, eine Feedbackschleife der Metamorphose von Digital zu Analog zu Digital ad infinitum. Ein Paradox. Genau wie das Foto des Biomüllsacks in hyperkünstlicher Plastikrahmung, nicht nur die Divergenz zwischen Bildinhalt und Materialität ist frappant, nein vielmehr wird ein Betrachter aka User dieses Bild fotografieren, uploaden und  somit wieder in unseren  Verwertungskreislauf des digitalen Dauerkairos einspeisen und somit: recyceln.
Philipp Preuss, Sept. 2017
1 René Thom, Mathematical Models, S. 298.
Image Courtesy by Maria Anwander & Ruben Aubrecht
A watermark is the symbol by which paper mills identify themselves. An imprint that can only be seen when held up to the light. In the digital age, these watermarks are digitally incorporated into photographs by commercial stock photo agencies; the images are branded, stamped, shunted from the freedom of open use, and marked as a product. Digital watermarks are transparent, the light we hold them up to are the screens of our technological devices; the translucent is merely simulated, as a varnish, a window, a layer. Maria Anwander and Ruben Aubrecht systematically explore this multilayeredness: An exhibition booth is shrouded in transparent gauze, imprinted with the copyright branding of their own imaginary stock photo agency. Appropriating agencies such as Shutterstock, Gettyimage, Adobe, etc. – the digital photo archives of our time, offering us images repackaged as merchandise online – they frame their exhibition booth and its image content; an analog embossed display by means of a digital sign system. Everything that goes into this net becomes its own proprietary framing: the observers, the fair visitors taking photos, the artwork installed and hanging behind it (which, in turn, present abstracted stock photos created by searching for "Beautiful Picture in Art Gallery" then blurring the results beyond recognition), in fact, the two artists sign and digitally brand the entire site-specific reality. The booth can be viewed as an amalgam of digital and analogue – a hybrid, digitalizing the analog, that references the utilization history of a photo of their earlier work Just another Work of Art which will not go down in History, which was uploaded by a user of the platform Tumblr – but at the same time rendering the digital analog by transforming the "Tumblr Like" and "reblog" data on this work, into real-world, tangible Plexiglas sculptures. Thus the virtual is made real, while this newly created reality is again made virtual to the second power by the picture-taking fairgoer: Media distribution via the Internet is always preconsidered and inherent in the work, as a sophisticated feedback loop with our copyright collection society.
"The only conceivable way of unveiling a black box, is to play with it." René Thom1
The Internet is increasingly proving itself an instrument for the leveling of both the historical and the present-day. It is always volatile, always up-to-date, always acute, never introspective, never political, never historical. In this sense, the ironic title of Just another Work of Art which will not go down in History only superficially refers to the postmodern dictum that there are no more masterpieces. Moreover, it refers to the fact that the Internet is establishing a new concept of history, overwriting or simply ignoring the old historiography. We know: A photo or it didn't happen, a Like or it wasn't there. The precise data on Likes and reblogs in the form of a semiotic sculpture offer a still frame of a present moment, that, as soon as it is photographed again, as it surely will be, represents its own past and past resonance. A work that is not only post-digital but also post-analog, a feedback loop of metamorphosis from digital to analogue to digital ad infinitum. A paradox. Just like the photo of the organic waste bag in a hyper-artificial plastic frame – the divergence between content and materiality is not only striking, what is more, the observer aka user will photograph this image, upload it, and thus feed it into the reutilization circuit of the eternal digital kairos. That is, recycle it.
Philipp Preuss, Sept. 2017
1 René Thom, Mathematical Models, p. 298.
Likes and Comments
2017, Plexiglas, 12 x 26 cm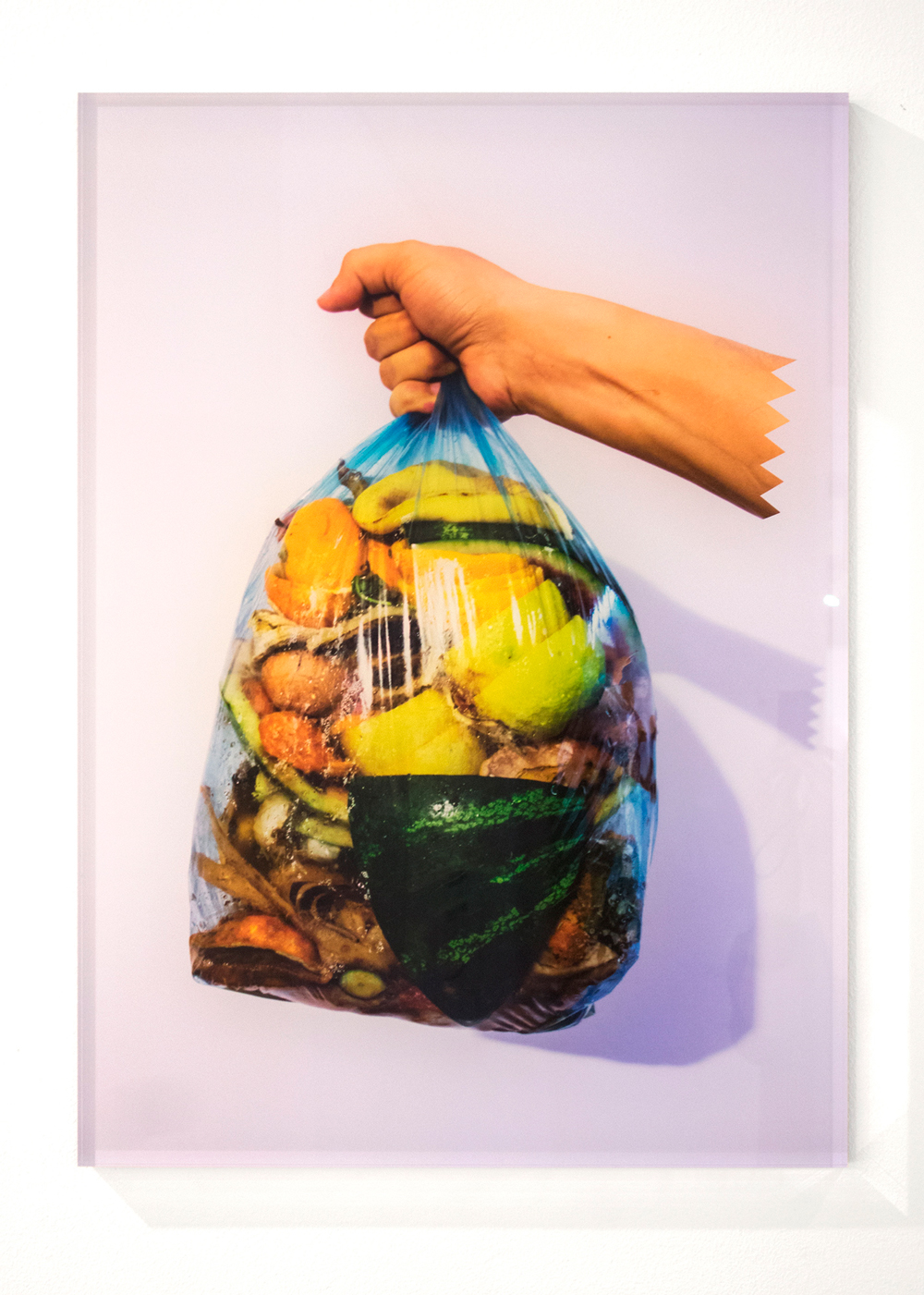 Ohne Titel | Untitled
2017, C-Print, Plexiglasversiegelung, 70 x 50 cm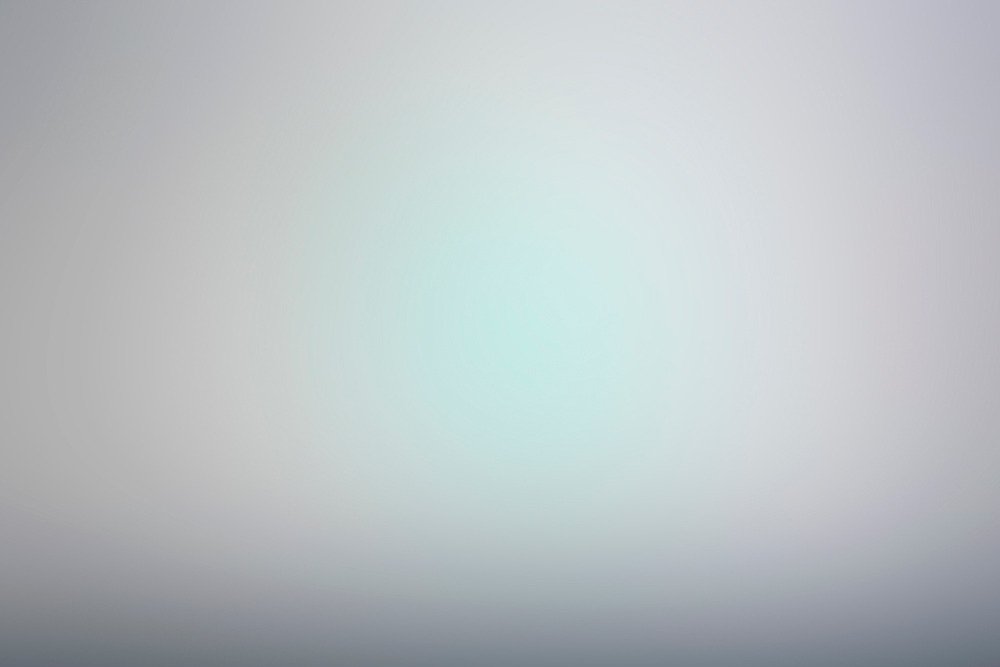 Beautiful Picture in Art Gallery (Shutterstock)
2017, Archivdruck auf Hahnemühle PhotoRag, Plexiglasversiegelung, 75 x 105 cm
Captivated by a Masterpiece (gettyimages)
2017, Archivdruck auf Hahnemühle PhotoRag, Plexiglasversiegelung, 75 x 105 cm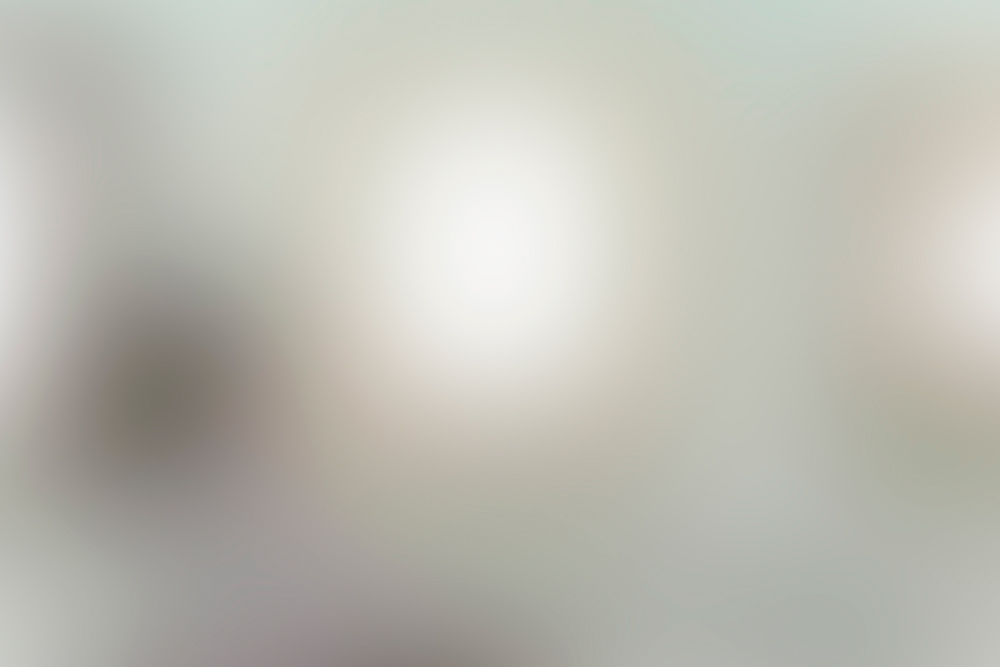 Work of Art (iStock)
2017, Archivdruck auf Hahnemühle PhotoRag, Plexiglasversiegelung, 75 x 105 cm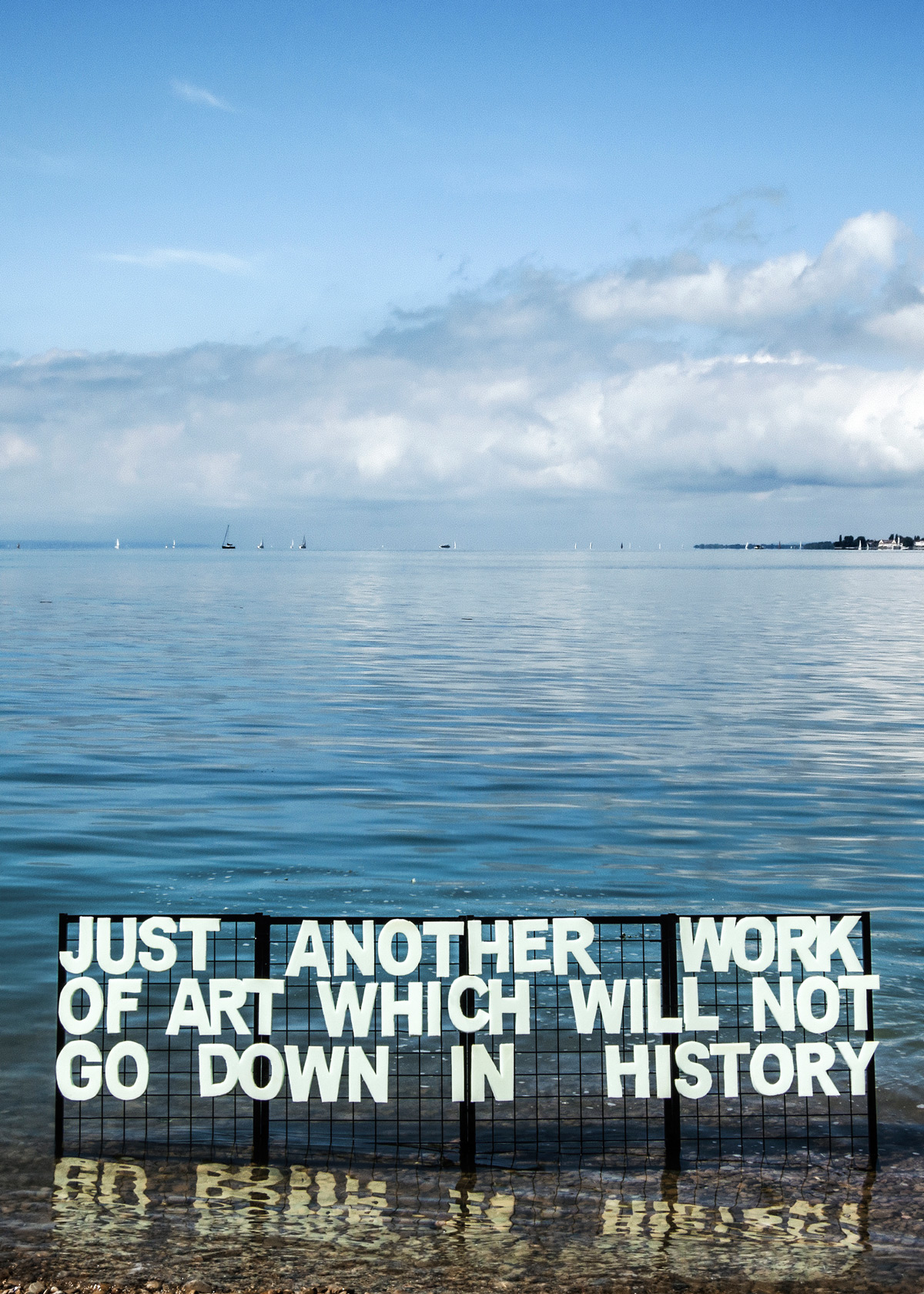 Abb.: o. T., 2012, Skulptur, 100 x 280 cm